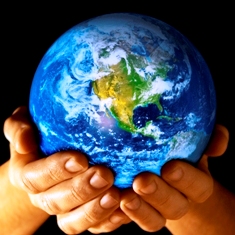 By Clark M. Jones

During the April 20th meeting of the Rapid City Council, Council Member Malcom Chapman spoke of sustainability as being so important to the future of our country.
At the time, three other members of the Council: Karen Gunderson Olson, Patti Martinson, and Aaron Costello were all in Portland, OR, for a Green Cities Conference, along with Public Works Director Robert Ellis (not the Dakota Voice editor Bob Ellis), and Growth Management Director Marcia Elkins.
I began watching and studying this issue at that time, as well as following attempts by Democracy in Action and members of the Rapid City Council to bring sustainability to Rapid City, as well as to get the Pennington County Commission to advance elements of it as well.
So what is sustainability? One answer could be that sustainability is the doctrine of limited resources that requires government leadership and action to manage the environment and society.
One of the books I have been reading is Common Wealth: Economics for a Crowded Planet by Jeffrey D. Sachs, director of the Earth Institute at Columbia University and special adviser to United Nations Secretary- General Ban Ki-moon on the Millennium Development Goals. He wrote of its purpose,
"The challenges of sustainable development-protecting the environment, stabilizing the world's population, narrowing the gaps between rich and poor, and ending extreme poverty-will take center stage." (1)
So what are the challenges of sustainability? Again, Sachs identifies them as:
Protecting the Environment
Stabilizing the world's population
Narrowing the gaps between rich and poor
Ending extreme poverty
Who in their right mind could be against something that sounds as noble as this? The question is, are these legitimate challenges or is this simply rhetoric and manufactured issues that claim a need to fix a problem by attacking a false cause? Blaming western civilization, and in particular America, is a favorite pastime with many on the left. Another term I discovered in studying the sustainability issue is "convergence." Sachs wrote in Common Wealth, "Economists use the concept of convergence to describe the processes by which the poorer countries catch up with the richer countries."(2) Thus the need to address the challenges of:
Narrowing the gaps between rich and poor
Ending extreme poverty
The American Dream is designed to make it possible for individuals and families to lift themselves out of poverty:
Any one of us can take our dreams, talents, gifts, drive, and energy and pursue our happiness.
We can try to build something based on values Ronald Reagan outlined in 1980 as "family, work, neighborhood, peace, and freedom.
Individuals sustain themselves through hard work and free enterprise.
Families sustain themselves through hard work and free enterprise.
Neighborhoods build and sustain themselves through volunteerism, hard work, and free enterprise.
That is American sustainability.
It is the direct opposite of the sustainability movement that Jeffrey Sachs describes. In that worldview and political philosophy, convergence is made necessary by what they believe to be the greed and irresponsibility of the American way.
In their view western civilization and industrialization threatens the planet and the survival of the human race. America is greedy and uses more than its fair share of the world's resources.
In their view, the only solution is a global solution and governance to balance what sustainable development proponents call its three areas: economic growth, environmental stability, and social equity.
These three areas were first introduced in a document commissioned by the United Nation's World Commission on Environment and Development called Our Common Future. This was published in 1987.
I first found this on Enviroliteracy.org which wrote that this "report also identified three components to sustainable development: economic development, environmental protection, and social equity…" (3)
In 1992, a document called Agenda 21 was published by the United Nations after convening the first Earth Summit in Rio de Janeiro. Enviroliteracy.org wrote of that convention
"It was here that the international community first agreed on a comprehensive strategy to address development and environmental challenges through a global partnership. The framework for this partnership was Agenda 21, which covered the key aspects of sustainability – economic development, environmental protection, social justice, and democratic and effective governance." (4)
In September 1994, the International Convention of Population and Development was held in Cairo, Egypt. It developed a "Plan of Action" to address the view of many, if not all of the proponents of sustainability, that the only way to get it is through population controls.
In 2000, the United Nations produced its Millennium Development Goals. Jeffrey Sachs wrote in Common Wealth, "Taken together, the Rio treaties, the Plan of Action on Population and Development, and the Millennium Development Goals can be called our Millennium promises for sustainable development." (5)
In December of 2009, the United Nations plans to convene in Copenhagen, Denmark to, as Secretary-General Ban Ki-moon has called for, "Seal the Deal" on climate change. To that end, Regency.org has reported on a planned worldwide broadcast of a television series called "The Road to Copenhagen: Seal the Deal" (6) to be aired during the six weeks leading up to that convention to raise support for this effort. Regency.org reported
"'The Road to Copenhagen:Seal the Deal' television series is produced by Global Initiatives in partnership with UNEP, the Climate Consortium and Back 2 Back Productions." (7)
An online petition drive has been initiated to pressure local and national governments around the world to go to Copenhagen and "seal the deal."
Sustainability is a complex, extremely well funded, and extremely organized global agenda. What this weekly series of articles will attempt to do is to break down the issue and cover its worldview, motives, goals, methodology, and tools.
What is their methodology? It is that the end justifies the means, with government organized to apply power to the advancement of their agenda through regulation, mandates, and education; of youth in particular, from preschool through high school.
They are highly organized, highly funded, and highly motivated and directed. Having said all this, the whole idea and movement is organized with a level of both intricacy and simplicity so that every local group that advances this cause and agenda has the cover to claim that they are just a local grassroots citizens group that only cares about clean air, clean water, safe and effective waste management, and economic and social justice. They can claim that there is no agenda.
Who can possibly be against any of that?
If we are going to still have a country, liberties, and free enterprise, we have to oppose what the sustainable development movement is doing in the name of these things.
References:
(1) Sachs, Jeffrey D., Common Wealth: Economics for a Crowded Planet, The Penguin Press, New York, 2008, Page 3
(2) Sachs, Page 19
(3) http://www.enviroliteracy.org/article.php/269.html
(4) http://www.enviroliteracy.org/article.php/269.html
(5) Sachs, Page 13
(6) http://www.regency.org/news_june09_3.html
(7) http://www.regency.org/news_june09_3.html

Clark M. Jones is a student of history and a member of Citizens for Liberty, the group which organized the Rapid City Tax Day Tea Party and the Rapid City Independence Day Tea Party.  To find out more about what Citizens for Liberty is doing in western South Dakota to fight excessive government and restore our land to limited government, go to www.sdcitizens.com or attend their next meeting (details on the website).