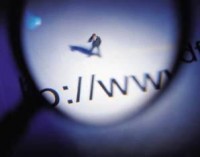 The power-grabs from this Constitutionally-belligerent liberal government just keep rolling.
Taking over huge sections of the banking industry wasn't enough.
Taking over the auto industry wasn't enough.
Taking over the energy industry wasn't enough.
Taking over the health care industry still wasn't enough.
Now they want to take control of the entire internet.
From Fox News:
A Senate bill would offer President Obama emergency control of the Internet and may give him a "kill switch" to shut down online traffic by seizing private networks — a move cybersecurity experts worry will choke off industry and civil liberties.

Details of a revamped version of the Cybersecurity Act of 2009 emerged late Thursday, months after an initial version authored by Sen. Jay Rockefeller, D-W.V., was blasted in Silicon Valley as dangerous government intrusion.

"In the original bill they empowered the president to essentially turn off the Internet in the case of a 'cyber-emergency,' which they didn't define," said Larry Clinton, president of the Internet Security Alliance, which represents the telecommunications industry.

"We think it's a very bad idea … to put in legislation," he told FOXNews.com.
Some don't believe the government could competently do it even if they empowered themselves (how many things DO they do competently?):
But many in the technology sector believe it's a job the government is ill-equipped to handle, said Franck Journoud, a policy analyst with the Business Software Alliance.

"Simply put, who has the expertise?" he told FOXNews.com in April. "It's the industry, not the government. We have a responsibility to increase and improve security. That responsibility cannot be captured in a government standard."
Yes, we don't want a foreign enemy to be able to interfere via the internet our banking, traffic lights, hospital technology, etc.  But what if they develop the ability to hijack this "switch"…and can with one fell swoop take control of what is currently a diversified, privately-owned network?
And in the current climate, what if our own government takes a notion to silence the "New Media" which exists in great part online?  What if the socialists in Washington see their glorious revolution going up in the flames of American passion and freedom…and decides to manufacture a fake "cyber-emergency" to shut down the bloggers, the social media, YouTube and more?  If they managed to shut down or throttle (strangle?) the internet, much of the New Media which counters the statist pap peddled by the "mainstream" media would be silenced…and socialists love an ignorant public.
You're looking at an internet version of the Orwellian-named "Fairness Doctrine"…only far worse.
If there was some reasonable evidence that the people in our government respected the Constitution, respected the people, were moral and just leaders, we might grudgingly consider putting this kind of power in the hands of responsible leaders, only to be used in a dire, clear and demonstrable emergency that affected public safety.  Unfortunately NONE of those things is true of our current government and a majority of those in it.
These people don't have the slightest clue what it means to be an American representative of the people.  They would fit in far better in some socialist European hovel or perhaps even better in some Marxist hellhole.
The election of 2010 and 2012 cannot come quick enough. This government, more hostile to the freedom of the American people–and toward those people themselves–than ever before, needs to be gone like no other in American history.
The American people, with their strong voices, their Tea Parties and more, must hold the line until we can get rid of this crop of anti-American usurpers. We will not allow the American republic to disappear into the sunset.