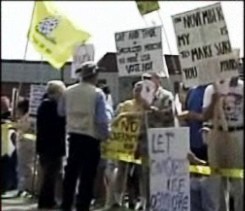 Neil Cavuto on Fox News interviewed one registered Democrat who couldn't get into President Obama's health care town hall in New Hampshire today–a Democrat who is opposed to the government takeover of health care.
Edward Naile is a registered Democrat who, rather than support the socialism being peddled by federal Democrats isn't too keen on the idea. He joined the protesters outside the town hall meeting who are opposed to socialized medicine.
Just as there are RINOs in the Republican Party, so there are a few generally conservative Democrats (maybe they're one-issue Democrats, maybe they don't like elephants…I don't know).
Cavuto and Naile talked about how, while admission to this meeting was supposedly determined by lottery, there seemed to be a notable absence of audience members critical of government health care. They were quite remarkably absent, given the raw anger seen in almost every other town hall meeting in the last few weeks.
I suspected earlier today–and voiced those concerns–that this would be a tightly-controlled, scripted event, and so far all the evidence points in that direction.
Barack Obama doesn't do nearly as well in town hall environments where the TOTUS (Teleprompter of the United States) isn't there to supply crafted dialog. And given the outrage many Americans are displaying at seeing their Constitution shredded in this move to have government take over a huge portion of our economy and our lives, a normal town hall meeting would almost certainly knocked Obama reeling off his game.
He had to resort to brazen lies several times during his presentation as well, with perhaps the biggest whopper being, "I have not said that I am a supporter of a single–payer system."
He may have walked away thinking he had fooled people today, and that might actually be true of some in his Koolaid Brigade, but I don't think he made an impression on average, freedom-loving patriotic Americans.