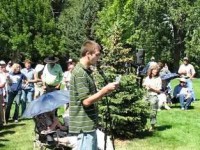 From the Citizens for Liberty Town Hall and Recess Rally on Saturday August 22, this is the sixth question asked by the public concerning health care reform:
Every American company has a right to make profit. We are a capitalist society. What gives YOU the constitutional right to pick one company over another to be winners or losers. We can fix health care without creating another government entity, we can pass laws that address tort reform, pre-existing conditions and high premiums. We do not need a government option to compete with other companies; they're already competing. Would you vote for a bill that has a government option?
Qusi al-Haj, West River Regional Director for Senator John Thune, answered first:
I've stated this before: Senator Thune will not support a bill that has a government option.
Megan Scott Smith, Legislative Assistant to Senator Tim Johnson, answered next:
Senator Johnson has come out in support of the public option. But I do want to be clear in saying that that's not the only part of reform he thinks is important to have. And so if a bill does come through the Senate that doesn't include a public option, certainly he will support that if it achieves all of the goals that he's hoping to achieve with this reform effort. I'd also like to address that the public option and the effort that that's undertaking to introduce more competition into the market right now. I think that South Dakota's a good example. We have a very limited private market and many people are finding that they don't have the choice they'd like within that market, and so the competition is not really taking care of itself in that we have very limited choices within the private market right now.
Rep. Stephanie Herseth Sandlin's Field Director Rick Hanson was present but did not come prepared to answer questions.