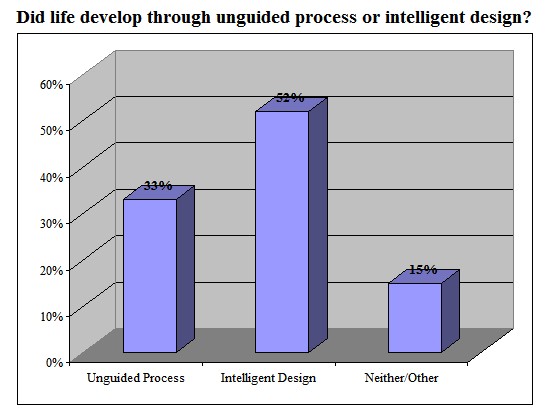 That has to really stink for the committed evolutionist.
After 150 years of rapturous embrace by the "scientific" community, decades of one-sided promotion in the public education system, uniform adherence from movie and television media, and still most of the American people just aren't buying the contention that this incredibly beautiful and fantastically complex universe we see around us just happened to end up this way without an intelligent designer.
That's what a new Zogby poll finds after sampling 1,053 likely voters on the 150th anniversary of Charles Darwin's On the Origin of Species.
The Discovery Institute, an intelligent design organization, announced  the findings yesterday.
Those surveyed were asked this question:
Statement A: The development of life came about through an unguided process of random mutations and natural selection.

Statement B: The development of life was guided by intelligent design.

Statement A: 33%
Statement B: 52
Neither: 7
Other/Not sure: 8
Now you and I know that just because a majority believes something, that doesn't make it so. Yet we hear that sort of contention all the time from the apostles of evolution theory: well, most scientist believe it… (with the implication that anyone who doesn't is a dolt).
Maybe most Americans realize a key truth that many theologically-biased scientists just don't get…or won't allow themselves to believe.
Most of the American people would like to see a little more academic freedom and inquiry into the theory of evolution, too, instead of the stonewalling that pretends there is not the slightest weakness in the theory:
Would you strongly agree, somewhat agree, somewhat disagree, or strongly disagree that teachers and students should have the academic freedom to discuss both the strengths and weaknesses of evolution as a scientific theory?

Strongly agree: 54%
Somewhat agree: 26%
Strongly disagree: 11%
Not Sure: 4%
So 80% of Americans believe teachers and students should be free to discuss both the strengths and weaknesses of the theory? That sounds reasonable, doesn't it?
So why do evolutionists fight tooth and nail any time such a thing is proposed in any school district anywhere in the United States?
Could it be that, deep down, they realize how weak and untenable their theory really is?  Could it be that they don't want the theory's weaknesses to be kicked around and examined by impressionable young minds…who might accidentally stumble over the fact that evolution is an illogical and unworkable theory according to its own framework?
After all, materialists, naturalists and evolutionists (really just flavors of the same ice cream) contend that nothing which cannot be observed or measured in laboratory conditions can be considered "science," and that anything which would be contrary to established scientific knowledge or principles cannot itself be considered "science."
So they have a problem with the fact that, according to their theory, organisms must spontaneously gain new and more complex genetic information to transform into new forms…when this has never been observed, and cannot be manufactured or tested in the lab.
There is also the problem of how information–coherent, meaningful, complex data that transmits meaning–can come about with no intelligent author.  Everything we know tells us that information always has an intelligent author…yet evolutionists expect us to believe that the incredibly complex genetic (and other) information seen in the universe came about totally without the benefit of an intelligent author.
They also have a problem with the fact that, according to their theory, life must have come about spontaneously (without intelligent intervention) from lifeless materials…when this has never been observed to happen, and scientific experiments have only proved that it cannot happen.
There is also the problem of the entire universe suddenly coming into existence from…nothing.  Science (real science, not conjecture and assumption, that is) tells us that matter and energy do not come into existence from nothing.
So the theory of evolution/naturalism/materialism has some pretty insurmountable problems at key hinge points of the theory.
Not to mention the fact that is is mostly made up of assumptions about facts, not facts themselves.
Maybe that's why they fight so hard to keep any mention whatsoever of evolutions problems out of the schools.
And maybe that's also why we need so badly to return to genuine open-minded academic inquiry in our country.