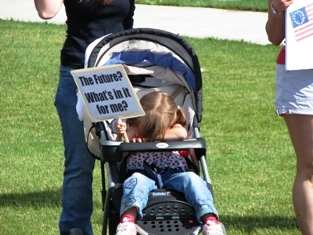 This video from Saturday's Independence Day Tea Party in Rapid City features the opening statements and other things from the program.
Before any of that those, the crowd was treated to the cutest impromptu dance.  The daughter of one of the Citizens for Liberty members decided, just moments before the program was to begin, to do a little "freedom dance" across the area in front of the bandshell.  It was so cute, and everyone there seemed to enjoy it.
I hope you enjoy that and the other  portions of the program in the video.
I will post more video from the Tea Party as they are edited, uploaded and processed.