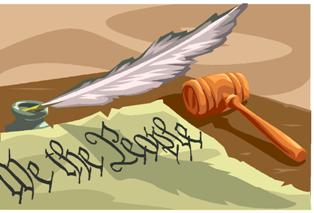 It's so wonderful to watch the American spirit come alive again after so many years of silence and apathy.
We saw multiple incidents last week where Americans found their voice and challenged the socialists in their plan to force government health care on America.
Wizbang and Gateway Pundit bring us word of  a health care town hall meeting in Missouri with Senator Claire McCaskill's district director Michelle Sherod taking questions from the audience.
They were expecting 100-200 people to show up, but estimates ran as high as 1,000.   And it seems some of those same Tea Partiers McCaskill's staff called the police on a couple of weeks ago were there also.
As you see in the video below, one lady asked the question of whether the socialists in Washington D.C. will be on the same pathetic health care system they want to force on the American people.
Since very few in congress and almost no Democrats have pledged to live under the laws they create, and few seem to want to even read their own bill,  I think we know the answer to that question.  As we saw in George Orwell's "Animal Farm," under Marxism, all animals are equal…but some animals are more equal than others.  And I think we all know who the pigs are in Washington, don't we?
In the second video below, American veteran Paul Curtman says that he took an oath similar to the one Senator Claire McCaskill took to uphold and defend the U.S. Constitution, but that in supporting government health care, McCaskill is breaking her oath.
He explains–since liberals these days seem to have difficulty reading or understanding the Constitution–that Congress' powers are contained in Article 1 Section 8 of the Constitution, and anything not listed there is ILLEGAL for our government to do.  He further enlightens her on the gross misuse of the "general welfare" clause which liberals often use to circumvent the Constitution.
He says he's not even so much looking for an explanation, but an apology, since this unconstitutional garbage should not even be introduced for consideration.
With patriots like this rising up across our country, we might just have a chance to preserve our freedom and maintain our Constitution.
The more freedom-loving Americans who will stand up with them, the better chance we have of saving this last, best hope of liberty on earth.
Will you stand up for freedom today?
Veteran Paul Curtman