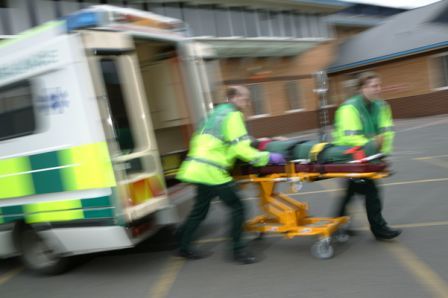 Drudge links to a story today of a Buffalo, NY case in which a local resident uses the ambulance service as a taxi to go to the hospital when he doesn't feel well.
Scott Graham is reported to have been taken to the hospital by ambulance several times per week and even twice per day for a total of over 600 trips in the past three years and at an estimated cost of nearly 120,000 dollars to local taxpayers!
That's just for the ride to the hospital mind you, and the actual amount charged was $360,000, of which Medicaid paid about one-third. The balance is paid for by patients and insurance companies that have to pay full fare.
Mr. Graham is reported to have sickle cell disease and is unemployed and uninsured so all his costs are necessarily (by law) either picked up by Medicaid or passed on to patients with insurance or at least responsible enough to pay their bills. (Ever wonder why a Tylenol at the hospital costs $37? Some of the exorbitant charges of hospital care can be attributed to the necessity of hospitals to recoup some of the losses in cases such as this.)
Mr. Graham also admits that he could call a taxi but that he is attended to faster in the ER if he arrives by ambulance. He also knows that when EMS is called through the 911 system that he can't be refused and can't be made to pay.
I know nothing of Mr. Graham's medical history other than his report about having sickle cell disease, so I can't speak to his case specifically, but every ER doc knows that sickle cell disease is often claimed by drug abusers as a way of getting injections of powerful narcotics pretty much whenever they want. Proving whether or not a patient is actually having an acute sickle attack is costly and time consuming so we often take a patient at his word and give Dilaudid or morphine on demand. Naturally, some find this an easy and cheap way of feeding a narcotic addiction.
This case is not rare. Similar abuse goes on in every ER in the country on a daily basis. It matters not whether it's a small rural hospital or a big city medical center—we all struggle every day to separate the truly sick and injured from the endless parade of patients only abusing the system for some hidden agenda; sometimes it's drugs, sometimes it's insurance fraud, sometimes it's sympathy of family and friends, sometimes it's ignorance, sometimes it's malingering, sometimes it's loneliness and sometimes it's just boredom. In almost all such cases the bill is being paid by someone other than the patient, usually Medicaid or "no pay" (which is really "you pay").
It is also a fact that it is these patients that represent the greatest liability when it comes to frivolous lawsuits, so you can understand why doctors often order an expensive battery of tests for what seems a straightforward medical complaint. A headache in your doctor's office is a headache, but in the ER with a patient who would sue at the drop of a hat it's a brain aneurysm or sub-arachnoid hemorrhage until proven otherwise by a $3000 CT scan.
Just how much all of this misuse of emergency departments costs us nationally is very difficult to say, but most ER docs and nurses would put the number somewhere close to half of all charges generated from the emergency department. It is much higher in many inner-city medical centers.
The high cost of health care has been talked about for some time but especially in the past few years. In virtually all discussions I've heard or read the issue of patient abuse is rarely even mentioned, yet it is certainly a significant contributor to ever rising health care costs. As long as the normal market forces that would ordinarily hold such behavior in check are circumvented there is little hope of truly getting a handle on the problem.
The story goes on to report that "2 On Your Side contacted Medicaid to have them look into the number of times Graham used an ambulance. Medicaid appeared more interested in how we got the information, rather than how much it cost taxpayers to pick him up."
That is consistent with my experience as well. The agencies responsible for administering these programs seem uninterested in identifying and cracking down on obvious abuse. I have contacted Medicaid many times about obvious abuse only to be told that "We'll look into it." And then nothing more is done.
Social welfare programs get their funding and job security not by rooting out recipients that use the services inappropriately but by maximizing their rolls and the amount of money they control. Attempting to clean up their programs would only undermine their claims of usefulness and expanding budgets.
So, who is looking out for those of us who pay the bills? No one, it seems. Therein lays the root of the problem and it will not be remedied by giving government bureaucrats absolute control over the health care system.
Any attempts to bring health care costs into line must rely on market principles and personal responsibility or be doomed to failure.