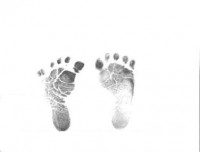 In comments on another post I was challenged by a reader to state flatly whether I thought Dr. Tiller was guilty of murder in the 60,000 abortions that he performed during his career.
I responded that I was not able to know another person's heart (only God can know that), but that by the evidence I thought Dr. Tiller knew what he was doing and decided that the financial reward was worth it; so, yes, I believe he was a murderer.
That was before I found this web site about the most prolific baby killer since Adolf Hitler. Now I am virtually certain that Dr. Tiller had a very dark and evil heart.
At www.dr-tiller.com we learn much more about Tiller. He cynically offered memorial services for mothers of aborted children to include baptism, photos, foot prints, chaplain's services, cremation, etc. All for a nominal fee, of course.
I cannot be sure of how God has judged Dr. Tiller. I cannot judge a person's heart, only his actions, but, based on what I have come to learn about his practice of killing for hire I certainly hope I am in better spiritual shape than he when I face the Lord.