You just never know what you're going to get from Planned Parenthood, do you?
It could be help in thwarting the law and parental involvement.
It could help covering up the crime of statutory rape.
It could be help in furthering your racist ambitions of ridding the world of black people. (The group's founder, Margaret Sanger, was a racist, after all.)
It could even be one of the millions of abortions Planned Parenthood performs.
But when you actually get the truth from Planned Parenthood…now that's noteworthy!
The only thing is, we haven't received much truth from Planned Parenthood for a long, long time.  But as this image posted at TinyPic shows,  at least Planned Parenthood was admitting the truth back in 1964 in this birth control ad.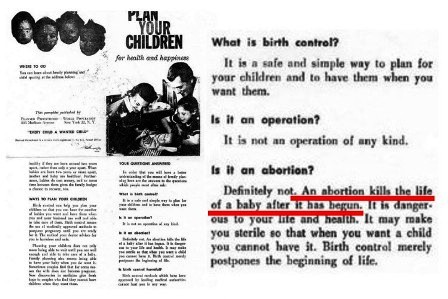 And not only were they honest about the fact that abortion kills a child, they actually fessed up to the fact that it is dangerous to a woman's health and result in sterility.  Amazing!
Apparently when the big agenda item in 1964 was access to contraception, the truth could be rolled out if it could be used to leverage an agenda item of Planned Parenthood.
But now that this objective has been accomplished, and the new primary objective is access to unrestricted abortion, that same truth is now an inconvenience (just like the aborted child) which must be swept under the rug (or thrown in the trash can).
Isn't it interesting, though to see Planned Parenthood at any time acknowledge what the pro-life community has consistently said for decades: abortion kills the life of a baby.