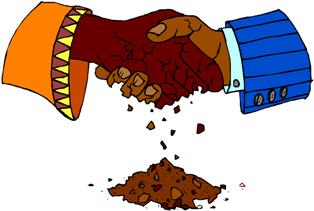 Kimberley Strassel at the Wall Street Journal has a great piece on the global warming debate and how Al Gore's much-professed "consensus" has crumbled to ruin.
Her article lists a number of people who are no longer following Al Gore's herd on the issue of anthropogenic global warming, and also provides some insight into how this fragile "consensus" has been devastated by science over conjecture and hysteria:
In April, the Polish Academy of Sciences published a document challenging man-made global warming. In the Czech Republic, where President Vaclav Klaus remains a leading skeptic, today only 11% of the population believes humans play a role. In France, President Nicolas Sarkozy wants to tap Claude Allegre to lead the country's new ministry of industry and innovation. Twenty years ago Mr. Allegre was among the first to trill about man-made global warming, but the geochemist has since recanted. New Zealand last year elected a new government, which immediately suspended the country's weeks-old cap-and-trade program.

The number of skeptics, far from shrinking, is swelling. Oklahoma Sen. Jim Inhofe now counts more than 700 scientists who disagree with the U.N. — 13 times the number who authored the U.N.'s 2007 climate summary for policymakers. Joanne Simpson, the world's first woman to receive a Ph.D. in meteorology, expressed relief upon her retirement last year that she was finally free to speak "frankly" of her nonbelief. Dr. Kiminori Itoh, a Japanese environmental physical chemist who contributed to a U.N. climate report, dubs man-made warming "the worst scientific scandal in history." Norway's Ivar Giaever, Nobel Prize winner for physics, decries it as the "new religion." A group of 54 noted physicists, led by Princeton's Will Happer, is demanding the American Physical Society revise its position that the science is settled. (Both Nature and Science magazines have refused to run the physicists' open letter.)
Proof of concensus or lack thereof is not an indication of the reliability of a given position; after all, the majority has been proved wrong countless times throughout history, and someone has to be the first person to be right about a new conclusion.
But when you have a situation where the more information we have on a given contention, the fewer people buy into that contention, well, that speaks powerfully that the contention was a bad one from the start.
I have long said that the contention that human activity–over more obvious and more powerful natural forces–is having a significant impact on global temperatures just doesn't pass the smell test.
To put it another way, it seems as if Occam's Razor has been forgotten in the modern world's infatuation with wild and exciting ideas. In case you're not familiar with Occam's Razor, it is a principle that basically says assumptions should be avoided where ever possible. Or to put it in plain language, of all reasonable explanations for a phenomenon, the simplest is usually the correct one.
Sadly, objective examinations of information and assumptive restraint have been abandoned in today's world in favor of politically correct agendas which are fueled by protection of reputation and ego.  In other words, instead of behaving like objective investigators, our modern scientific and legislative community behaves like teenagers caught up in herd-instinct pursuit of "the right clothes" or "the right CD" or "the right look."
I can only hope a sufficient number of the American people wake up to the reality that the theory of AGW stinks…and that they get ticked off enough to wake up a sufficient number of representatives in congress to stop this mad rush to destruction before it's too late.