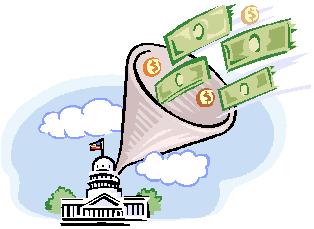 Newsmax says Democrats in congress are preparing to push forward with their $1 trillion (plus) plan to socialize medicine in the United States–repeating the same mistakes made in England, Canada, Sweden, Massachussetts, and other socialist enclaves around the world.
Was it Albert Einstein who defined insanity as doing the same thing over and over while expecting different results?
From Newsmax:
Democrats at both ends of the Capitol accelerated their drive to enact health care legislation on Tuesday, outlining proposals to extend coverage to uninsured millions but omitting most details on plans for raising more than $1 trillion needed to cover costs.

"We are going to be deficit-neutral — even — over five or 10 years," White House budget director Peter Orszag said, and President Barack Obama told Democratic lawmakers he would soon outline as much as $300 billion in additional savings from Medicare and Medicaid.
Do I have to say it? Okay I'll say it: go pull my other leg now.
Since when has any government program come in on budget? Since when has any government program come in even moderately over budget? As we know, the norm is for government programs to run fantastically over budget…and then the guardians of those bloated, wasteful programs use the "Well, we already have so much invested" excuse to keep throwing taxpayer money down a hole.
Not only is government health care legalized fiscal rape of the taxpayers, and not only it an inept edifice not even closely associated with the word "quality," it is a completely un-American concept.
America was founded on principles of limited government, and those principles were specifically laid down in the enumerated powers of Article 1 Section 8 of the U.S. Constitution.  If it is not specifically listed in Article 1 Section 8, it is beyond the authority of congress to do it; to do so is an illegal act in violation of the U.S. Constitution.  That principle of limited government is further reinforced by the Tenth Amendment to the U.S. Constitution which says,
The powers not delegated to the United States by the Constitution, nor prohibited by it to the states, are reserved to the states respectively, or to the people.
The founders were quite clear that congress had no authority beyond that specifically laid out in the Constitution, no matter how benevolent or well-intentioned their motives:
– A wise and frugal government…shall not take from the mouth of labor the bread it has earned. – Thomas Jefferson

– To take from one, because it is thought his own industry and that of his fathers has acquired too much, in order to spare to others, who, or whose fathers, have not exercised equal industry and skill, is to violate arbitrarily the first principle of association, the guarantee to everyone the free exercise of his industry and the fruits acquired by it. — Thomas Jefferson

– Congress has not unlimited powers to provide for the general welfare, but only those specifically enumerated. – Thomas Jefferson

– The moment the idea is admitted into society that property is not as sacred as the laws of God, and that there is not a force of law and public justice to protect it, anarchy and tyranny commence. If 'Thou shalt not covet' and 'Thou shalt not steal' were not commandments of Heaven, they must be made inviolable precepts in every society before it can be civilized or made free." — John Adams

– [Congressional jurisdiction of power] is limited to certain enumerated objects, which concern all the members of the republic, but which are not to be attained by the separate provisions of any." – James Madison

– The powers delegated by the proposed Constitution to the federal government are few and defined . . . to be exercised principally on external objects, as war, peace, negotiation, and foreign commerce." – James Madison

– With respect to the two words ' general welfare,' I have always regarded them as qualified by the detail of powers connected with them. To take them in a literal and unlimited sense would be a metamorphosis of the Constitution into a character which there is a host of proofs was not contemplated by its creators. – James Madison

– I cannot undertake to lay my finger on that article of the Constitution which granted a right to Congress of expending, on objects of benevolence, the money of their constituents. – James Madison

– Charity is no part of the legislative duty of the government. – James Madison

– We have the right, as individuals, to give away as much of our own money as we please in charity; but as members of Congress we have no right so to appropriate a dollar of the public money. — Congressman Davy Crockett
There is no other way for government to fund this monstrosity than to do as Jefferson said and "take from the mouth of labor the bread it has earned."  That, friends, is theft.
Our government has authority to defend the country, build roads, and so on, but it has no authority to take by force one person's property (the money they earned) and give it to another–in the form of government health care or any other form.
I spent 10 years in the military under a government health care system, and I lived in England for three years under their National Health Service.  In both systems, I saw what human nature always shows us: when something is "free," it will be over-used and abused.  This causes delays and reduction in services to those who truly need it.  These systems also breed apathy on the part of the medical staff involved, further resulting in diminished quality.
No matter how you look at the concept of government health care in America–Constitutionally, legally, morally, fiscally, practically, qualitatively–it is a profoundly terrible idea and an abomination in the face of American ideals.
And it is time for Americans to send the clear, loud and unmistakable message (as we did when they tried this nonsense back in 1994) to Washington that we will not tolerate it.
And the Independence Day Tea Parties going on on July 4 in over 1,100 cities around the nation are a good place to start.