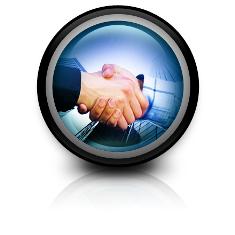 Probe Ministries has a new presentation that could not be more relevant for our day. It's on "Poverty and Wealthy" and the dominant economic systems of our day in the light of Biblical doctrine. Those systems are capitalism (the one the United States was founded on), interventionism and socialism.
We frequently hear Leftists (who have a dash of religious fealty, that is) make the claim that socialism is in harmony with the Bible and Christian doctrine. They see the sharing of wealth and property done by the early Christians in the book of Acts as proof that Marxism (the modern parent doctrine to socialism) is the way to go.
But they miss key truths about this example:
But what about the example in Acts of all Christians sharing their goods in common or of Barnabas selling his property for the good of other believers? What some people miss is that both of these examples are of individuals making free moral choices to use their property for the good of others. They are making free market decisions regarding their possessions. This can only occur when individuals have the freedom to use their possessions to help others. If all economic decisions are made by centralized planners, moral choice is removed and the option to act upon personal moral convictions is reduced.
The Probe presentation also quotes Ronald Nash's book Poverty and Wealth: Why Socialism Doesn't Work, pointing out that of all the economic systems out there, capitalism is the most moral and effective:
Capitalism is quite simply the most moral system, the most effective system, and the most equitable system of economic exchange. When capitalism, the system of free economic exchange, is described fairly, there can be no question that it, rather than socialism or interventionism, comes closer to matching the demands of the Biblical ethic.
And
Unfortunately, many Christians act as though the only thing that counts is intention. But when good intentions are not wedded to sound theory, especially sound economic theory, good intentions can often result in actions that produce consequences directly opposite to those we planned.
I think we all remember what road was paved with good intentions. In the end, they aren't worth a whole lot without good actions and good results. Good intentions based on bad assumptions usually leads to hellish consequences.
In this fallen world of corrupted human nature, no economic system will work perfectly; human beings are, after all, the main ingredient in any system.
But the two opposing economic systems–capitalism and socialism–have different basic assumptions about human nature and correspondingly seek to make their system function based on those assumptions.
Socialism, unfortunately, completely disregards Biblical teaching about the fallen nature of human beings and assumes that human beings will act in a morally upright fashion if their basic needs are met. This is at the heart of why socialistic systems never work: because human nature does not work in this fashion.
Capitalism, on the other hand, assumes from the beginning that fallen nature and actually takes self-interest into consideration, working the system in such a way that the various self-interests involved in a free market system work against one another to cancel out the most egregious manifestations of greed.
For instance, a producer of goods or services may want to make as much possible from his product and thus want to set the price for an exorbitant amount.  However, the self-interest of the consumer leads him to refuse to pay such a high price, and so the producer must surrender some of his self interest and lower his price to the point where the consumer considers the exchange of money for goods/services a worthwhile surrender of some of his self interest (i.e. his money)–and the producer may need to lower the price even further to attract a wide body of customers for his product/service.
The same system of competing self interest can also be seen at work in the employment process.  The prospective employee may want an hourly wage of $50 an hour.  However, if he doesn't have the skills and training to secure a job that will pay that much (based on how much that employee contributes to the profitability of the company), he may need to lower his wage request to the point where he and a prospective employer can agree on a wage that allows the company to be profitable while meeting the employees income goals.
As I said earlier, no system is perfect, and excess greed can manifest itself in a capitalist system. But market forces work to minimize that, and there is always the authority of government to punish egregious, harmful and immoral displays of greed that hurt others.
In today's world of mixed economic approaches, it is often excessive interjections of government control and socialism which negate the balancing effect of competing interests in the capitalist system, and end up causing far more economic instability and harm than good.
And in a socialist system where government is the ultimate authority over all, there is no higher authority to appeal to for justice. If government caused your problem, and government is the only place to go for redress of grievances, you're going to be deep in the hurt locker (as we so often see in Marxist and socialist nations around the world).
You can download or play online the audio presentation of this material here.