I know: it sounds like the title of a cheap movie, but the term coined by Green Hell Blog is very apt.
The Shower Nazis are apparently coming in the Waxman-Markey cap and trade global warming tax bill passed by the U.S. House last Friday.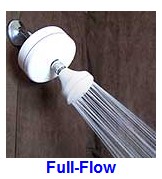 Tucked away inside this bloated 1,200-page assault on the American people is a provision in Section 217 which intends to waste still more of the taxpayer's money on rebates, vouchers and other such nonsense to incentivize the American people to install water-saving devices in their homes.  It also seems likely that the EPA will have to be consulted before you can take a whiz in your own home.
Green Hell Blog points to one of these micromanaging shower governors that cuts off your water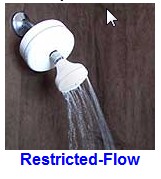 before you're done with your shower.  What kind of idiot wants to deliberately subject himself to being covered in soap and shampoo when the water suddenly starts trickling out.  A lot of the showers in England (the few you could find) when I lived there in the 1980s had water pressure about like you see from one of these Big Brother devices; my best friend said they were like having elves urinate down onto you (only he used slightly more crude language).
Some of the language in Section 217:
(1) establishes (or has established) a State program to provide rebates or vouchers to residential consumers for the purchase of residential water efficient products or services to replace used products of the same type;

(f) Issuance of Rebates- Rebates or vouchers may be provided to residential consumers that meet the requirements of the State program. The State may issue all rebates or vouchers directly to residential consumers or, with approval of the Administrator, delegate some or all rebate and voucher administration to other organizations including, but not limited to, local governments, municipal water authorities, and water utilities. The amount of a rebate or voucher shall be determined by the State, taking into consideration–
Down in Section 245 and 347 we also find reference to even more rebates for a "motor efficiency program:"
SEC. 245. MOTOR EFFICIENCY REBATE PROGRAM.

(a) In General- Part C of title III of the Energy Policy and Conservation Act (42 U.S.C. 6311 et seq.) is amended by adding at the end the following:
`SEC. 347. MOTOR EFFICIENCY REBATE PROGRAM.

`(a) Establishment- Not later than January 1, 2010, in accordance with subsection (b), the Secretary shall establish a program to provide rebates for expenditures made by entities–
`(1) for the purchase and installation of a new electric motor that has a nominal full load efficiency that is not less than the nominal full load efficiency as defined in–
`(A) table 12-12 of NEMA Standards Publication MG 1-2006 for random wound motors rated 600 volts or lower; or
`(B) table 12-13 of NEMA Standards Publication MG 1-2006 for form wound motors rated 5000 volts or lower; and
`(2) to replace an installed motor of the entity the specifications of which are established by the Secretary by a date that is not later than 90 days after the date of enactment of this section.
`(b) Requirements-
`(1) APPLICATION- To be eligible to receive a rebate under this section, an entity shall submit to the Secretary an application in such form, at such time, and containing such information as the Secretary may require, including–
`(A) demonstrated evidence that the entity purchased an electric motor described in subsection (a)(1) to replace an installed motor described in subsection (a)(2);
`(B) demonstrated evidence that the entity–
`(i) removed the installed motor of the entity from service; and
`(ii) properly disposed the installed motor of the entity; and
`(C) the physical nameplate of the installed motor of the entity.
`(2) AUTHORIZED AMOUNT OF REBATE- The Secretary may provide to an entity that meets each requirement under paragraph (1) a rebate the amount of which shall be equal to the product obtained by multiplying–
`(A) the nameplate horsepower of the electric motor purchased by the entity in accordance with subsection (a)(1); and
`(B) $25.00.
If you as an American aren't outraged about this micro-managing Big Government and waste of your money, frankly I don't know what your problem is.
We declared our independence just a few days short of 233 years ago to rid ourselves of European-style government meddling and egregious taxation of the American people…and here we are, our own government doing even worse to us in broad daylight!
Thank God the American people are energized like I've never seen them before in my lifetime.  With the hundreds of thousands who attended the Tax Day Tea Parties, and those we'll see next Saturday at the Independence Day Tea Parties around the country, we may just stand a chance in the next couple of years of saving our country and turning it around.
The work we're doing to educate and motivate at the Tea Parties, and also to recruit and equip limited government candidates for next year's elections, may just make the difference.
America, along with the limited government Constitution and values that made her the greatest nation on earth, are worth saving.