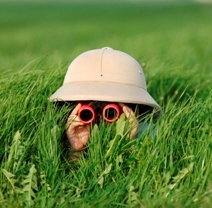 These are the top stories at Dakota Voice in the last week.  You, Dear Reader, made them the top stories through your hits and your comments on them.
In case you missed them the first time, or just want to read them again and ponder them in the glow of your Sunday leisure, here they are:
Mercy for the Terrorist: Death to Terri Schiavo – The typical sentiment on the Left is to scream for mercy for terrorists…while screaming for death for people who are disabled and inconvenient.
Fossil Find: Missing Link or Mountains of Assumptions? – This week's announcement of a new fossil find brought cries that the fabled "missing link" had been found. Actually, it was just another bag of assumptions to throw on top of the mountain of assumptions evolution theory is already built upon.
Understanding President Obama on Abortion – Stuart Shepard and Tom Minnery look behind President Obama's words to examine his actions and develop an understanding of the man and his methods.
Media Buries Obama-ACORN Tie Story – Some of us knew about the ties between Barack Obama and ACORN before the election.  But thanks to the "mainstream" media, that number was kept as low as possible, and the media is still working to keep that tie under wraps.
Gov. Schwarzenegger Proposes Eliminating Welfare – California's $23 billion deficit and voter rejection of tax hikes has led Governor Schwarzenegger to propose eliminating welfare in California.
Know-it-all Christians Who Can't Prove God Exists – Do know-it-all Christians who can't prove God exists get on your nerves?
WSJ: Obama Scores Big At Notre Dame – The most pro-abortion president in history recently spoke at the Catholic university of Notre Dame.  What does this say about the college?
What I Learned at Graduation: I Have No Rights – One of the biggest things students who have faith in Jesus Christ will learn in the public education system these days is that they have no rights, that the First Amendment doesn't apply to them.
Environmentalists Find New Ways to Harm People – Evolutionists told us to get rid of the paper grocery bag to save the planet.  Then they told us to get rid of it's replacement, the plastic bag, in order to save the planet.  Now we find that reusable grocery bags are filled with harmful bacteria.  Is environmental extremism more important than human beings?
Rep. Herseth Sandlin's Voting Record More Radical Than She Lets On – Rep. Stephanie Herseth Sandlin portrays herself to the voters as being "moderate," but her voting record tells a far different story.  Who does she vote with more than 90% of the time?  It might surprise you to learn…
Thank you, Dear Reader, for making these the best of the best at Dakota Voice last week!