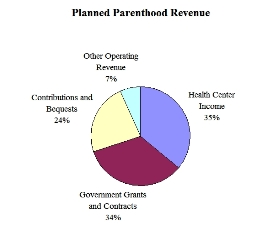 The nation's largest abortion provider, Planned Parenthood, recently released their annual report, this one covering the fiscal year 2007-2008.
Among the items in the report: the number of annual abortions performed  by Planned Parenthood is up over 5% to 305,310.
Taxpayer funding for this morally bankrupt organization is also up, from about $337 million to just under $350 million.
Page 18 of the report lists  Planned Parenthood's income, and we find that 34% of their income comes from you, the American taxpayer.
How does it feel to know you are funding the abortion of thousands of unborn children every year?
It is also interesting to note that while their adoption referrals are up considerably from the previous report, they still only number 4,912.  That's more than 62 abortions for every one adoption referral.   I'm sure they do their best to talk people out of not killing their child, but the law of averages says a few (1.6%) are going to slip through and actually end up leaving the womb alive.
Planned Parenthood pushes extramarital sex on young people in a number of ways.  They have a sexually-explicit and values-free website called TeenWire which offers advice to kids under the headings of "Communication is key when it comes to oral sex",  "Yeast Infections 101?, "Is there a type of condom that's best for homosexual guys?", "I dress up in women's lingerie when I masturbate. Does this mean I'm gay?" and more.
They also push cheap condoms on young people as if they were the answer to every sexual hurdle…condoms which were rated in 2005 by Consumer Reports as among the worst-performing (i.e. most likely to fail) of all the condoms they tested.
And then there's the hundreds of thousands of innocent children killed in the womb by Planned Parenthood's taxpayer-funded money-making machine.
It's long overdue for these butchers to be pushed away from the trough of public largess if not shut down altogether.