I could be wrong here.
I suppose it's possible that Christopher Hitchens is just monumentally ignorant and misled about America's Christian heritage and about certain very important facts about the founders.
Somehow, I don't think so.  He seems far too intelligent, with far too much ability to learn and investigate on his own to have stumbled through life to his current age without somehow encountering the truth of these matters.
I would therefore be forced to conclude that–based on the garbage he peddles in the video below–he has a secularist (atheist?) agenda and is knowingly spreading lies and propaganda.
For instance, he insists that Benjamin Franklin was "undoubtedly an atheist."  Franklin was indeed one of the least religious of the founders.  But somehow I cannot imagine an atheist–in this age or any other–calling for prayer to be held at the beginning of congressional discussions:
In the beginning of the contest with Great Britain, when we were sensible to danger, we had daily prayers in this room for Divine protection. Our prayers, Sir, were heard and they were graciously answered… And have we now forgotten that powerful friend? or do we imagine that we no longer need his assistance?…I have lived, Sir, a long time, and the longer I live, the more convincing proofs I see of this truth—that God governs in the affairs of men. And if a sparrow cannot fall to the ground without his notice, is it probable that an empire can rise without his aid? We have been assured, Sir, in the sacred writings, that 'except the Lord build the House, they labor in vain that build it.' I firmly believe this; and I also believe that without his concurring aid we shall succeed in this political building no better, than the Builders of Babel…We shall be divided by our little partial local interests; our projects will be confounded, and we ourselves shall become a reproach and bye word down to future ages…I therefore beg leave to move—that henceforth prayers imploring the assistance of Heaven, and its blessings on our deliberations, be held in this Assembly every morning before we proceed to business…"
Franklin made this statement as congress met to work out our constitution and form of government, and the practice of prayers to open congressional business continues today.  He also repeats several Biblical claims, without any apparent question or doubt as to their veracity.
Hitchens also takes off on a fishing expedition for red herrings by claiming that the Pilgrims and the Founders "are not the same."  In one sense he is correct.  In referring to "the founders," we usually mean the men who declared independence from England and who set up our Constitution and government after independence was secured.  However, those "founders" were descended  closely from the Pilgrims who came to the United States to spread the Gospel of Jesus Christ and to establish a Christian society for the glory of God (as almost every colonial charter and the Mayflower Compact illustrate).  The "founders" values were the Pilgrim's values.
And he also implies that America's founding documents are "secular" as if to imply this means Christian values are to be sanitized from the public square.  He is referring, I believe, to the "secular" Declaration of Independence which refers to " Nature's God," the endowment of rights to all men "by their Creator" and calls on "the protection of Divine Providence" to secure that independence.  He is surely also referring to the U.S. Constitution which took the time to declare that Sunday (the Christian day of worship) would not count as a legislative day, and to declare in the First Amendment that the federal government is NOT to abridge freedom of religious expression.
At best, Hitchens profoundly misunderstands the difference between a theocratic nation which is governed directly by religious documents, and a moral nation (like the United States) which is governed by secular law and individuals…but guided by their religious values.   Our founders were not officials representing a religious institution, and they did not copy and paste portions from the Bible into the Constitution and law.  But–as they wrote the Constitution and established the government and law of our land–the framework and underlying values upon which our law and government were based were guided by the religious values of the men who built them.  This critical truth and distinction is perhaps nowhere better illustrated than by the observations of Alexis de Tocqueville as recorded in Democracy in America.
Thomas Jefferson was also one of the least religiously orthodox of the Founders. Yet on May 24, 1774 he led the Virginia House of Burgesses to declare the "first day of June be set apart, by the members of this House, as a Day of Fasting, Humiliation and Prayer, devoutly to implore the Divine interposition…"  On April 26, 1802, Jefferson extended a 1787 act of Congress in which special lands were designated: "For the sole use of Christian Indians and the Moravian Brethren missionaries for civilizing the Indians and promoting Christianity."  Jefferson also said, "The practice of morality being necessary for the well-being of society…We all agree in the obligation of the moral precepts of Jesus and nowhere will they be found delivered in greater purity than in His discourses."
Hitchens also misrepresents the fact that George Washington sometimes declined communion while attending church.  What Hitchens fails to mention is that Washington did so while serving in public office because he feared people might think he was trying to carry out a self-elevating religious display, and he did not want to debase the meaning of Christian communion even by someone elses misinterpretation of his actions. People such as Washington's daughter Nelly Custis-Lewis, Major William Popham and the wife of Alexander Hamilton have all testified that Washington had indeed been seen taking communion over the years.
There is no credible doubt that George Washington was a Christian.  During the Revolutionary War, he made sure church attendance and moral standards were a top priority for his troops.  When home at Mount Vernon, he was a regular attender of church in Alexandria, Virginia.  I have traveled the distance between Christ Church and Mount Vernon, and in those days that would have been quite a distance for someone to travel on a Sunday if they were not indeed a Christian.  When a biographer asked Washington's daughter Nelly if he was a Christian, she said, "Is it necessary that any one should certify, "General Washington avowed himself to me a believer in Christianity?" As well may we question his patriotism, his heroic, disinterested devotion to his country."
Washington also told the Delaware Indians in 1779, "You do well to wish to learn our arts and our ways of life and above all, the religion of Jesus Christ. These will make you a greater and happier people than you are. Congress will do everything they can to assist you in this wise intention."
Washington's tomb is inscribed with a verse from the Bible, John Chapter 11: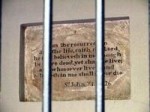 I am the resurrection and the life, saith the Lord. He that believeth in me, though he were dead, yet shall he live; and whosoever liveth and believeth in me shall never die St. John XI 25,26.
A very odd verse (any verse would be, really) for someone who didn't believe in the deity of Jesus and the eternal life he brings.
Interesting, too, that if the United States was not founded a Christian nation by a Christian people, that John Jay–President of the Continental Congress from 1778 to 1779 and from 1789 to 1795,  governor of New York, co-author of the Federalist Papers, and the first Chief Justice of the United States Supreme Court (appointed by George Washington)–would say:
"Providence has given to our people the choice of their rulers, and it is the duty, as well as the privilege and interest, of our Christian nation to select and prefer Christians for their rulers."
Hitchens is the kind of vicious propaganda artist who will brazenly and relentlessly lie and misrepresent the truth, and when poll numbers start to indicate that people are beginning to buy some of that propaganda, he then uses that success as a new stepping stone as if to say, "See, I told you this was nonsense."  In other words, he attempts to bring about a reality, and when the slightest hint of success becomes evident, he leverages that to further make people believe that was the reality all along.
Hitchens repetitions of lies here is one of the most arrogant displays of anti-Christian propaganda I've seen publicly in a long time.  But therein lies the strength of these lies.  As Joseph Goebbels indicated, repeating a big lie (implying that it should be repeated boldly and brazenly) makes it believable to those who don't know better.