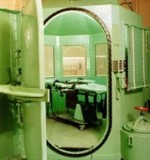 Cory Heidelberger at the Madville Times continues the liberal tradition of upside-down morality with his promotion of a repeal of the death penalty for financial reasons. 
He cites statistics which find that it costs $1.9 million more to execute a convicted murderer than it does to incarcerate them for life.
The truth that he glosses over is that it costs more because, on average, we allow convicted murderers about 12 years of appeals before finally administering justice.   This racks up huge additional legal costs and substantial additional costs of extra security for death-row felons for this average of 12 years.
Our society once understood that good justice must be administered swiftly.  Allowing the criminal system to drag this out for years denies justice to the family of the victim, removes the element of punishment from the crime (thus undermining the deterrent effect), costs the taxpayers much more money, and even denies the perpetrator what we once considered important: a right to speedy disposition of a criminal matter.
I have a far better solution to reduce the cost of dealing with convicted murderers–one that doesn't allow them to escape the due penalty for their crime.  Allow for an automatic judicial review of their case, allow one appeal, and if these fail, it's time to take the long walk to destiny. 
Twelve years (some can take 20 years) of seemingly-endless appeals based on technicalities and the hopes of finding a bleeding-heart judge spit in the face of justice and, obviously, are a needless expense to the taxpayer.  Let's ensure a fair trial was provided…then get the job done.
In addition to saving considerable taxpayer dollars, this would move the punishment closer in time to the offense, thus shoring up a deterrent effect which we know already works, even with the existing average 12-year gap.
Contrary to Cory's misguided assumptions, there is no moral obligation whatsoever to steal from the taxpayers for anything.  There is no moral obligation to steal from one taxpayer to cover another's health care, no moral obligation to steal from one taxpayer to pay for another's abortion, and no moral obligation to take money from the taxpayer to allow a convicted murderer to escape justice.
When someone murders a human being, they have taken a life that is sacred, created in the image of God.  Human life is utterly irreplaceable.  When a murderer takes an innocent human life, they rob the victim of everything they will ever do; they have stolen time, talent, experience, and opportunity.  They have not only stolen from the victim, but the family, friends and other loved ones of the victim. 
The value of what has been destroyed is utterly incalculable, which is why just societies require the ultimate punishment for someone who would wrongfully take innocent human life. 
Any healthy justice system involves recompense and compensation for what the perpetrator took from the victim.  Since a human life cannot be restored once it is taken, the closest a murderer can come to recompense is to give up his own life.  The murderer is required to give all he has to come as close as he can to honor and illustrate the value of what he wrongfully took.
Failure to carry out the death penalty for murderers, found guilty beyond a reasonable doubt by a jury of their peers, shows disrespect for the value of the life taken and makes a mockery of justice.
As a side note, Cory believes there are "some abortions are carried out for reasons I would find morally questionable." Some?
Presumably these would be the abortions performed for no other reason or pretense than pure convenience. According to the latest statistics from the South Dakota Department of Heath, those "some" abortions–carried out for the stated reason that "The mother did not desire to have the child"–make up 83.2% of all the abortions performed in South Dakota. The last time I checked, "83.2% of anything constituted more than "some."
Ironically and as usual, Cory and other liberals want to spare convicted murderers from the just penalty for their crime…while excusing the murder of innocent children who have committed no crime whatsoever. 
I'm coming to the conclusion that, for rational people with a functioning moral compass, there is simply no understanding the liberal mind.