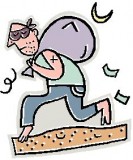 The United States Senate today showed its contempt for private charity, limited government and the United States Constitution.
As I discussed this morning, in President Barack Obama's zeal to "spread the wealth" and stick it to the rich, he wants to see philanthropy take a hit, too.
Obama's proposed changes in the tax code would limit the tax deduction for high-income taxpayers making more than $250,000 a year, reducing it from 35% to 28%.
In tough economic times, this adds insult to injury for, as Senator John Thune (R-SD) pointed out, this effort to go after more of the property belonging to the wealthy "would reduce charitable donations by as much as $8 to $16 billion annually."
Senator Thune introduced a resolution expressing the "Sense of the Senate" that the existing deduction be maintained.  It failed today by a vote of 48 to 49.
Apparently most Democrats believe that, like the Postal Service and everything else the federal government does, bureaucrats can do a better job of dispensing charity than can private individuals and organizations.
Said Thune in a press release this afternoon:
"The Senate missed an opportunity to affirm our commitment to charitable giving," said Thune. "Government programs alone cannot replace the services that non-profits and private charities provide to those in need, especially during these difficult economic times.

"Americans are generous people, even in difficult times. By reducing the tax deduction for charitable giving, the Administration is discouraging private giving, and the negative effect will be hardest on those who are most in need of help."
For those the slightest bit concerned about what our U.S. Constitution–the highest law of our country–says about charity and about taking the property of one person and giving it to another, the Founders tell us:
– A wise and frugal government…shall not take from the mouth of labor the bread it has earned. – Thomas Jefferson

– To take from one, because it is thought his own industry and that of his fathers has acquired too much, in order to spare to others, who, or whose fathers, have not exercised equal industry and skill, is to violate arbitrarily the first principle of association, the guarantee to everyone the free exercise of his industry and the fruits acquired by it. — Thomas Jefferson

– Congress has not unlimited powers to provide for the general welfare, but only those specifically enumerated. – Thomas Jefferson

– The moment the idea is admitted into society that property is not as sacred as the laws of God, and that there is not a force of law and public justice to protect it, anarchy and tyranny commence. If 'Thou shalt not covet' and 'Thou shalt not steal' were not commandments of Heaven, they must be made inviolable precepts in every society before it can be civilized or made free." — John Adams

– [Congressional jurisdiction of power] is limited to certain enumerated objects, which concern all the members of the republic, but which are not to be attained by the separate provisions of any." – James Madison

– The powers delegated by the proposed Constitution to the federal government are few and defined . . . to be exercised principally on external objects, as war, peace, negotiation, and foreign commerce." – James Madison

– With respect to the two words ' general welfare,' I have always regarded them as qualified by the detail of powers connected with them. To take them in a literal and unlimited sense would be a metamorphosis of the Constitution into a character which there is a host of proofs was not contemplated by its creators. – James Madison

– I cannot undertake to lay my finger on that article of the Constitution which granted a right to Congress of expending, on objects of benevolence, the money of their constituents. – James Madison

– Charity is no part of the legislative duty of the government. – James Madison

– We have the right, as individuals, to give away as much of our own money as we please in charity; but as members of Congress we have no right so to appropriate a dollar of the public money. — Congressman Davy Crockett
The American people should stop allowing this disregard, this contempt for the Constitution to stand.
The Tax Day Tea Parties coming up April 15 are a good time to broadcast that message loudly to Washington D.C.