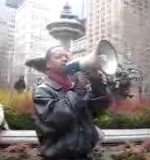 We have a little New York City Tea Party discontent here with President Obama's re-introduction of the Welfare State and his massive injection of socialist rot he has planned for America.
This man in the video says not to adjust your cameras.  He is indeed, black, Republican and proud of it!
He points out the oft-overlooked truth that all this "free" stuff the socialist government robs producers for and foists on the American people does indeed have a price
 
---
Try us out at the new location:

American Clarion

!
---