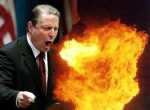 The earth-worshippers and Apostles of the Religion of Global Warming held a revival Saturday night called "Earth Hour" where everyone was supposed to turn off their lights to save our planet from erupting into a ball of fire.
Not everyone participated, though. I heard that some folks were going to turn on every light they had, as a counter-protest to this nutty idea of anthropogenic global warming. I briefly considered doing that, but in the end, I just couldn't be bothered to do anything other than simply live my life as I normally choose–as a free American should.
But I also hear that Al Gore, the High Priest of the Religion of Global Warming, didn't participate.
According to the Nashville Post and WorldNetDaily:
Drew Johnson, the president of the Tennessee Center for Policy Research, decided to drive by Gore's mansion in Nashville at 8:48 p.m. and records that floodlights were on illuminating the driveway leading up to the main quarter.

"I pulled up to Al's house, located in the posh Belle Meade section of Nashville, at 8:48 p.m. – right in the middle of Earth Hour," he wrote on his blog. "I found that the main spotlights that usually illuminate his 9,000 square foot mansion were dark, but several of the lights inside the house were on."

He added: "The kicker, though, were the dozen or so floodlights grandly highlighting several trees and illuminating the driveway entrance of Gore's mansion. I [kid] you not, my friends, the savior of the environment couldn't be bothered to turn off the gaudy lights that show off his goofy trees."
The belief in anthropogenic global warming is a religion because frankly, it requires more faith to believe in that nonsense than it requires to believe in most religions.
From the climate data going back thousands of years showing cyclic temperature changes, from the records showing the Vikings once growing vineyards in Greenland that is now covered in ice, from the unreliable temperature data, from the natural sources of greenhouse gasses, from the global warming happening on other planets such as Mars and Jupiter, from the solar activity at record levels, from the total lack of consensus demonstrated by tens of thousands of scientists who just aren't buying it, with the dwindling numbers of people drinking the Kool-aid and global warming coming in dead-last in a 20-issue list of concerns…the theory of anthropogenic global warming is on thin ice.
One might even surmise that, since Al Gore doesn't take it seriously enough to go dark during Earth Hour himself, maybe he's a false prophet.  Maybe he doesn't really believe this hooey either…