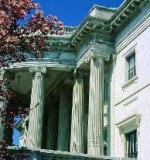 American Minute from William J. Federer 
The Uniform Holiday Bill, signed by President Lyndon Johnson in 1968, moved the celebration of Washington's Birthday to the third Monday in FEBRUARY.
Sometime after this, with Lincoln's birthday also in the month of February, people began referring to the holiday as "Presidents' Day."
Of note is that virtually every President swore into office with their hand upon a Bible, ended their oath with "So help me God" and acknowledged a Supreme Being in their address upon assuming the Presidency.
Eisenhower, Reagan and George H.W. Bush included prayers.
President Eisenhower began his Inaugural, 1953: "My friends, before I begin…would you permit me the privilege of uttering a little private prayer of my own. And I ask that you bow your heads. Almighty God, as we stand here at this moment…"
Ronald Reagan began his Inaugural, 1985: "I wonder if we could all join in a moment of silent prayer…"
George H.W. Bush began his Inaugural Address, 1989: "My first act as President is a prayer. I ask you to bow your heads. Heavenly Father, we bow our heads and thank you for your Love. Accept our thanks for the peace…"
William J. Federer is a nationally recognized author, speaker, and president of Amerisearch, Inc, which is dedicated to researching our American heritage. The American Minute radio feature looks back at events in American history on the dates they occurred, is broadcast daily across the country and read by thousand on the internet.