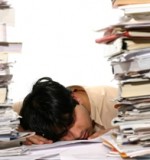 According to several sources including Bloomberg, the socialists in congress appear to be trying to slip a huge chunk of socialized medicine past us, wrapped up in this behemoth porkulus spending bill.
Dr. Theo talked about this yesterday, but the ominous implications run wide and deep. 
Supporters of the "stimulus" bill are saying this is just about electronic medical records…but their assurances are very shallow, contain little detail, and don't adequately explain the presence of a new office of health care bureaucracy.
Betsy McCaughey says at Bloomberg:
Tragically, no one from either party is objecting to the health provisions slipped in without discussion. These provisions reflect the handiwork of Tom Daschle, until recently the nominee to head the Health and Human Services Department.

Senators should read these provisions and vote against them because they are dangerous to your health. (Page numbers refer to H.R. 1 EH, pdf version).

The bill's health rules will affect "every individual in the United States" (445, 454, 479). Your medical treatments will be tracked electronically by a federal system. Having electronic medical records at your fingertips, easily transferred to a hospital, is beneficial. It will help avoid duplicate tests and errors.

But the bill goes further. One new bureaucracy, the National Coordinator of Health Information Technology, will monitor treatments to make sure your doctor is doing what the federal government deems appropriate and cost effective. The goal is to reduce costs and "guide" your doctor's decisions (442, 446). These provisions in the stimulus bill are virtually identical to what Daschle prescribed in his 2008 book, "Critical: What We Can Do About the Health-Care Crisis." According to Daschle, doctors have to give up autonomy and "learn to operate less like solo practitioners."
At Human Events today,  House Minority Whip Eric Cantor (R-VA) is quoted with regard to this health care bureaucracy:
"This is not a job sustaining and creating provision. Some support the notion that we ought to go down the pike of allowing CMS [Centers for Medicaid and Medicare Services] now determine what kind of treatment takes place for a particular kind of patient and determine his or her doctor. That's the kind of discussion we can have in regular order — that's a discussion that needs some airing — but it doesn't belong in a stimulus bill."
Yomin Postelnik at the Canada Free Press also warns about this hidden gem.  Given that England and Canada have already put themselves eyeball-deep in socialized medicine, they see firsthand  what a phenomenally bad idea government-run health care is.
Not only is it tremendously wasteful, expensive and inefficient, it can be hazardous to your health…especially if you're a senior citizen.
In Canada, cuts to seniors are less pronounced. They are simply built into the system. The result: An average wait of 14 months for a hip operation. And that's just a minor example. Despite the abysmal nature of Canada's health care in general, seniors suffer the worst.
And
Daschle's book on health care states that seniors should sacrifice advancements in care so that resources can be spent primarily on the young.
In other words, just die and get out of the way. It is the socialist way, after all.
Our freedom, our prosperity, our very country is in the process of being pulled out from under us.
How long will it take the American people to realize what a grave error they made on November 4, 2008?