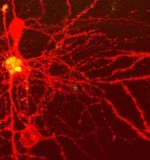 LifeNews and MSNBC, among others, are reporting yet another success for adult stem cell research.
A year or two ago it was reported that scientists had devised a way to reprogram adult stem cells to behave as if they were embryonic stem cells, producing what are known as induced pluripotent stem cells or iPS cells.
In the latest advance, researchers have been able to induce them to create nerve cells:
A team at the University of California Los Angeles was able to make motor neurons out of the induced pluripotent stem cells and the scientists hope to make cells tailored to specific diseases for therapy.

BY converting the iPS cells into motor neurone cells, scientists may be able to better treat amyotrophic lateral sclerosis, or ALS.

"IPS-derived cells appeared to follow a normal developmental progression associated with motor neuron formation," they wrote in the journal Stem Cells.

The researchers added that the new cells they created look just like embryonic stem cells, yet they didn't have to destroy days-old human embryos, or unique human beings, to get them.

The researchers at UCLA plan to attach the new cells to muscle cells to determine if they will contract and they hope to eventually be able to take a skin cell sample from a patient to generate a tissue transplant or build a stem cell bank for other patients.
We shouldn't be destroying innocent human life in pursuit of medical therapies to begin with, as embryonic stem cell research requires.
When you consider that ESC research faces serious problems with tissue rejection and tumor growth, the case against embryonic stem cell research grows even beyond the moral into the practical realm.
And when you consider that adult stem cell research has already yielded dozens of successful therapies for illnesses such as brain injury, stroke, retina regeneration, heart tissue regeneration, angina, diabetes, bone cancer, nerve regeneration, cerebral palsy, cartilage regeneration, Parkinsons, kidney damage, liver cancer, lupus, multiple sclerosis,  leukemia and more…one has to seriously wonder why some people are so eager to destroy innocent human life.
Is is the money?  Is it the research grants?  Is it a spiritual problem?