Reprinted by permission of the Christian Post
By Lawrence Jones 
Christian Post Reporter
Wed, Feb. 11 2009 03:42 PM EST
The warden at Louisiana's maximum security prison has agreed to remove a Bible reference from a monument erected at the prison's gates to encourage arriving inmates.
Prison officials have submitted work orders to have the "Philippians Monument" stripped of its Philippians 3:13 Bible citation, according to Cathy Fontenot, a spokeswoman at the Louisiana State Penitentiary at Angola, Religion News Service reported.
The corresponding verse, "forgetting what is behind and straining toward what is ahead," will remain on the front of monument, said Fontenot.
She further added that the side of the book-like monument, where the Bible citation had been lcoated, will be filled with artwork or a more secular inspirational message.
Angola Warden Burl Cain made the decision to remove the attribution to the New Testament book Philippians after the Louisiana arm of the American Civil Liberties Union filed a complaint last year, alleging that the Bible reference endorses one religion over others.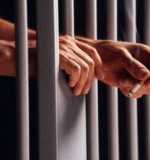 In a letter responding to the complaint, Cain denied any religious purpose behind the monument. He said the monument is for "moral rehabilitation," advising arriving inmates that "we are not going to look at the past – to let it go and begin change for the better."
"It is an encouragement as they begin to serve their long sentence at Angola," said Cain, noting that ninety percent of inmates who enter the prison die there.
Prison officials have also agreed to remove the "Prayer of Protection," inscribed on the opposite side of the Bible verse, to satisfy the ACLU complaint that also pinpointed the prayer.
The prayer reads: "The light of God surrounds you. The love of God enfolds you. The power of God protects you. And the presence of God watches over you; Wherever you are, God is."
The ACLU, an organization that provides legal assistance in cases in which it considers civil liberties to be at risk, is known for filing legal challenges involving religion in virtually every public square, from Christian clubs in schools to public prayer at government meetings.
Christian law firms that defend the religious freedoms of believers in such cases have criticized the ACLU as being anti-religious, specifically anti-Christian.
Although Cain and prison officials have complied with complaints made by ACLU over the monument, they are yet to be cleared.
Last week, the ACLU filed suit against Cain and other prison officials, alleging that Catholics and Muslims were denied access to worship services and religious materials.
Copyright 2009 The Christian Post. All rights reserved. This material may not be published, broadcast, rewritten, or redistributed.