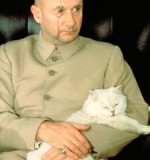 No, this isn't Senator Arlen Specter, but rather James Bond's arch enemy Blofeld. 
But if this bloated pork-ridden, mind-boggling chunk of debt known as the "stimulus" bill is bad for America and freedom (and I believe it is), then perhaps Specter and SPECTRE have something in common.
Radio talk show host Laura Ingraham took Senator Arlen Specter (RINO-PA) to the woodshed for defecting to the Democrats (again) and supporting the porkulus "stimulus" bill.
"Is it nice to be wined and dined at the White House?" Ingraham asked. "And, you're treated pretty well when you're a Republican bucking other Republicans, right Senator?"
Spectre, er, Specter took umbrage at Laura's insinuation that he's a little too cozy with Democrats.
"Now let's get off it Laura," Specter replied. "I'm not drinking any wine at the White House and I don't dine at the White House. If the president wants to talk to me – I talk to him and I make my own independent judgment. Don't give me the wine and dine baloney young lady."
Ingraham asked Specter to help her out and assist her in understanding how spending a trillion dollars to further fatten an already bloated federal government is supposed to stimulate the economy.
I don't know about Laura, but I wasn't helped by Specter's attempt.
Specter defects from the Republican Party to the Democrats far too much, and the Democrats abandon the American way (i.e. capitalism, freedom, limited government) far too much.  
Specter should just change his party affliation and end any remaining confusion.