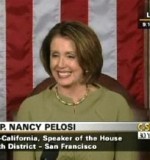 As expected, President Obama expertly delivered his first speech to Congress. In the Focus Action Update, Tom Minnery, Ashley Horne and Stuart Shepard compare what he said to what he's doing.
Minnery said he heard some good things in the speech, such as Obama's acknowledgement that fatherhood is important to education, and that this begins at home. He also made comments favorable to charter schools, which are a good move toward educational choice.
Horne said she was struck by what she didn't hear in the speech.  She said that with some of the radical plans Obama has advertised even on his website, she would have expected him to share a little of this with the country.
Obama claimed in his speech that there were no earmarks in the porkulus plan, and Republicans gave a negative reaction to that false claim.  Billions were included for a magnetic levitation train from Disneyland to Las Vegas (Majority Leader Harry Reid's state)…but this isn't pork?
An appropriations bill headed for Obama's desk contains nearly 9,000 earmarks…yet he is dedicated to not including pork in legislation?
Minnery, Horne and Shepard also pointed out that, despite Obama's claims, the bailout bill does indeed rescue and reward the irresponsible and those who made bad decisions.
Obama also promised speech access to "competitive" education "from the day they are born to the day they begin a career."  Shepard envisioned a classroom full of babies being taught how to drool.
Minnery expressed dismay at the growing popularity of the mentality that parents are unnecessary or undesirable in the development and education of children of preschool age.  It almost seems as if some people believe parents are incompetent to take care of their own children.
And unless Obama is serious about opening things up for charter schools, vouchers and more, the education system isn't going to get much more "competitive."  Government has a near-complete monopoly on education…and the sorry state of academic achievement shows it.
Minnery pointed out how small business owners often include their business income in with their personal income–making them appear to be far wealthier than they actually are, especially when you consider how much comes out of that business "income."
How did Horne summarize Obama's speech: Saying a lot but saying very little.
Obama campaigned on change?  I think we got it.  What has been destroying our great country just got exponentially worse.  That's change…for the worse.