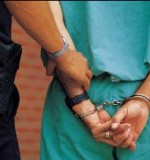 If you're a normal, bill-paying, law-abiding responsible citizen, you probably didn't know people like these ACORN ditzes in the videos below existed.
But having worked a number of years in collections for a major corporation, I can tell you they do exist–in sickening numbers.
The first video shows ACORN thugs breaking into a home to allow the former occupant to come into the home they do not own.
It does not matter to the lawless (read: liberal) mind that these people had opportunity to know exactly what the terms of their loan were before they agreed to the loan.  It doesn't matter that these people didn't repay their loans as they agreed to.  It doesn't matter that the homes they didn't pay for were legally repossessed.  It doesn't matter that these homes are someone else's property.  It doesn't matter that they are breaking the law.
In typical liberal fashion, all that matters is, "I want, I want, I want!" 
Disappointing and sad from a 5-year-old; pathetic from adults. 
Fortunately, the owners and the authorities aren't rolling over for this lawlessness.  The first arrest has already been made, and they should be prosecuted to the fullest extent of the law–everyone involved with this lawbreaking.