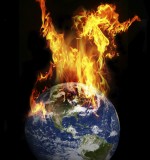 John Coleman, founder of the Weather Channel, has a great piece at KUSI News in San Diego on the little-known history behind the religion of anthropogenic global warming.
Coleman tells "The Amazing Story Behind the Global Warming Scam" and takes us back to post-WWII for the story of Oceanographer named Roger Revelle. 
Revelle saw the opportunity to obtain major funding from the Navy for doing measurements and research on the ocean around the Pacific Atolls where the US military was conducting atomic bomb tests.
Ah, a little free money. Who could fault Revelle for wanting to feed at the same trough so many others used, thanks to FDR's rejection of our constitution's limits on government?
But that was only the beginning.
Next Revelle hired a Geochemist named David Keeling to devise a way to measure the atmospheric content of Carbon dioxide. In 1960 Keeling published his first paper showing the increase in carbon dioxide in the atmosphere and linking the increase to the burning of fossil fuels.

These two research papers became the bedrock of the science of global warming, even though they offered no proof that carbon dioxide was in fact a greenhouse gas. In addition they failed to explain how this trace gas, only a tiny fraction of the atmosphere, could have any significant impact on temperatures.
These guys used some of the alarmism about pollution back then–some of it valid–to push for still more government funding.
At this point in Coleman's narrative, we get down to the real fuel behind the man-made global warming fire:
Back in the 1960s, this global warming research came to the attention of a Canadian born United Nation's bureaucrat named Maurice Strong. He was looking for issues he could use to fulfill his dream of one-world government. Strong organized a World Earth Day event in Stockholm, Sweden in 1970. From this he developed a committee of scientists, environmentalists and political operatives from the UN to continue a series of meeting.
Meanwhile, Revelle had gone to Harvard University to establish a Center for Population Studies. Here he inspired one young student to go on to be a major peddler of the theory of anthropogenic global warming.
That student was Al Gore. He thought of Dr. Revelle as his mentor and referred to him frequently, relaying his experiences as a student in his book Earth in the Balance, published in 1992.
But many years later, while Al Gore was gathering steam and scaring other impressionable minds with his Earth in the Balance, his mentor Revelle was having second thoughts.
he had time to rethink Carbon Dioxide and the greenhouse effect. The man who had inspired Al Gore and given the UN the basic research it needed to launch its Intergovernmental Panel on Climate Change was having second thoughts. In 1988 he wrote two cautionary letters to members of Congress. He wrote, "My own personal belief is that we should wait another 10 or 20 years to really be convinced that the greenhouse effect is going to be important for human beings, in both positive and negative ways." He added, "…we should be careful not to arouse too much alarm until the rate and amount of warming becomes clearer."
Unfortunately Revelle died of a heart attack before his re-examination of CO2 and global warming could be completed and made public. But Gore would foster no such doubts in his own worldview and "dismissed Roger Revelle's Mea culpa as the actions of senile old man."
What does Coleman think about the fantasy of anthropogenic global warming and the effect of this religion:
We are already suffering from this CO2 silliness in many ways. Our energy policy has been strictly hobbled by no drilling and no new refineries for decades. We pay for the shortage this has created every time we buy gas. On top of that the whole thing about corn based ethanol costs us millions of tax dollars in subsidies. That also has driven up food prices. And, all of this is a long way from over.

And, I am totally convinced there is no scientific basis for any of it.
So much for Gore's much-vaunted "scientific consensus," eh?
You can read Coleman's entire piece here.
You can also read Coleman's remarks to the 2008 International Conference on Climate Change from March 2, 2008 here.
The number of people who see through this facade of anthropogenic global warming is growing all the time.
It's easy for so-called "experts" to make flash-in-the-pan pronouncements of doom that get people stirred up, but when many people stop long enough to take a hard look at the religion of AGP, it quickly becomes apparent that it doesn't even pass the smell test.
We can only hope the Obama Administration will face the music on this massive scam before the American economy and our prosperity are are gravely damaged.