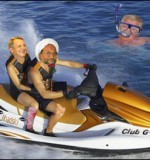 In the wake of President Barack Obama's decision to close Club Gitmo, we continue to hear more and more about former guests going back to terrorism (the question is begged among rational people: why were they let go in the first place???).
A couple of weeks ago we learned that an increasing number of former Club Gitmo residents were returning to terrorism.
Earlier this week we heard about Said Ali al-Shihri who has been promoted to high leadership within the Yemen branch of Al-Qaeda.
Now we find that still another former Club Gitmo vacationer,  Abu al-Hareth Muhammad al-Oufi, has turned up back at terrorism.
According to AFP,  al-Oufi is now an Al-Qaeda field commander, and has turned up on a terrorist video with al-Shihri.
Let us hope the mounting evidence of terrorist recidivism from Club Gitmo causes President Obama to rethink the closure of Gitmo.
We need to keep these POWs of the War on Terrorism incarcerated and demilitarized until the War on Terrorism has been won, however long that takes.