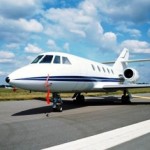 Don't you love these liberals and their stark hypocrisy?
They whine and moan about people's SUVs and electrical power plants causing global warming…while flying their private jets to attend the inauguration of the new High Priest of Global Warming (though Al Gore may still wrestle President Obama for that title).
From the Wall Street Journal:
According to an article in Bloomberg, as many as 600 private jets were expected to touch down in D.C. for the inauguration. The runway at Washington Dulles was closed Saturday to allow as many as 100 small planes to park. And the Metropolitan Washington Airports Authority said it expected a total of 500 small jets to land from Jan. 16 through Jan 21.
Good thing anthropogenic global warming is a total farce, or we might be much closer to doom after today.
Of course, sacrifices are really for the little people. After all, the elites need all the modern trappings in order to be able to effectively tell us what's good for us. If they were not aided by these technological marvels that are too good for the rest of us, we the unwashed masses might become more lost and further harm our precious Earth Goddess.
How comforting to know that the liberal elites will bear the burden of the tremendous guilt which must come with flying in these private jets. They save us from the burden of such guilt, even as they attempt to save us from ourselves.