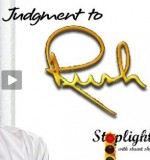 You've probably heard of the "Fairness Doctrine," the anti-First Amendment rule liberals are drooling to bring back to muzzle talk radio and Christian radio.
You've probably also heard about all the wailing and whining Democrats have been doing about Rush Limbaugh…
Liberals are asking conservative lawmakers to stop listening to Rush Limbaugh. But in his Stoplight® commentary, Stuart Shepard explains it's really not about the popular talk-show host — it's about ideas.
Note: Reader comments are reviewed before publishing, and only salient comments that add to the topic will be published. Profanity is absolutely not allowed and will be summarily deleted. Spam, copied statements and other material not comprised of the reader's own opinion will also be deleted.