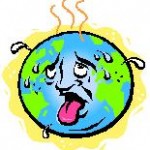 President-Elect Barack Obama's  EPA administrator-designee Lisa Jackson was grilled on the theory of anthropogenic global warming at her confirmation hearing in the Senate yesterday.
According to CNS News, she said  
"If confirmed, I will serve with science as my guide,"
That's good, but then, the theory of man-made global warming is based on a whole lot of conjecture (and anti-capitalist ideology) and very little science, so I won't be holding my breath in wait of solid scientific backing for what we see come out of the EPA.
I doubt Sen. James Inhofe (R-OK), the ranking member of the Senate Environment and Public Works Committee, will be either.  He asked her to commit to listen to a speech he recently gave on "More Than 650 International Scientists Dissent Over Man-Made Global Warming Claims." (There are actually considerably more than that–over 3,000, actually, who have gone on record).  Jackson said if she is confirmed she will make time to listen to the speech.
The article also included a few quotes Inhofe cited concerning the dissent (that Al Gore can't seem to find) over the issue:
— "I am a skeptic . . . global warming has become a new religion," said (Ivar Giaever, Nobel Prize Winner for Physics.

— "Warming fears are the "worst scientific scandal in the history…When people come to know what the truth is, they will feel deceived by science and scientists," said IPCC Japanese scientist Dr. Kiminori Itoh, an award-winning Ph.D. environmental physical chemist.

— "It is a blatant lie put forth in the media that makes it seem there is only a fringe of scientists who don't buy into anthropogenic global warming," said U.S government Atmospheric Scientist Stanley B. Goldenberg of the Hurricane Research Division of NOAA.
The theory of anthropogenic global warming is based on a tiny amount of inconclusive science which is blown up into a huge cloud of gas based on pure guessing and conjecture.
What's more, much of the small amount of real data is actually suspect.  For instance, NASA temperature reports have had to be revised twice in the last year or so after gross errors were found.
It has also been pointed out that many of the weather stations where temperatures are gathered are situated in a manner where their accuracy is questionable.   For example, pictures of one placed on concrete (where heat from the sun will accumulate) have been revealed, as was one weather station standing 10 feet from an air conditioner exhaust vent (which spews out hot air).  
Global warming enthusiasts also ignore evidence which goes back thousands of years (some would say even farther) indicating natural climate cycles of warming and cooling.
Adherents to this environmentalist religion also ignore the stunningly obvious possibility that the huge star in the middle of our solar system (known commonly as "the sun") may be affecting any temperature change on earth.  After all, warming has been detected on Mars and Jupiter;  the last anyone knew, there were no SUVs, power plants or even humans on those planets to cause global warming.
Socialists are the primary proponents of this shallow theory, and the White House is filling up with socialists, including Obama's "global warming czar"  Carol M. Browner, and of course Obama himself.  
Sadly, I don't think Americans will be able to expect anything out of the Obama administration but more science-fiction and more assaults on the free market engine that has made America the most prosperous nation in human history.