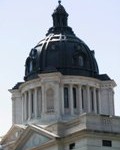 Randy Rasmussen has another great column in the Rapid City Journal today. It is entitled "Lawmakers should set a benchmark this session" and highlights a rare opportunity for the South Dakota legislature to get government under some reasonable control.
Here is an excerpt: 
The Legislature also has a historic opportunity. By cutting back on state spending that it decides is not necessary when the state can't afford it, the Legislature will be defining not just the minimum level of state government, it will also be defining what is the appropriate size of government.

Government ought to do only what is necessary for the public good and nothing more.

This year's Legislature has the opportunity to define what, exactly, the state government needs to provide to its citizens so that future lawmakers have a benchmark by which to measure if they are gouging taxpayers to provide services that aren't necessary.
The wisdom of taking such an opportunity is reflected in the sentiments often attributed to Thomas Jefferson and Henry David Thoreau: "The best government is that which governs least."
Our federal government was crafted on this wisdom by defining the enumerated powers of the government, specifically listed in Article I Section 8 of the U.S. Constitution. In other words, as the Tenth Amendment lays out, if the federal government isn't specifically authorized by the Constitution to do something, it cannot legally do that thing.
In our free nation, government was never intended to have unlimited power; the Founders realized a government without restraint would inevitably enslave the people it should be serving.
The people are not an inexhaustible source of revenue to feed the ambitions and feather the nest of  grandios politicians, either.  
I join Randy in hoping the South Dakota legislature will slow down and take a long, hard look at this rare opportunity.